---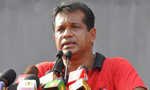 JVP Politburo member K.D. Lal Kantha claimed that there is a plan to systematically expel the JVP from national politics through an election system and the party already held discussions with President Maithripala Sirisena in this regard.
"We met the President to clarify about the election system as we felt that he is not aware of many things," he said addressing a Farmers' Conference in Dambulla on Thursday.
He said the President had questioned him recently at another Farmers' Conference in Dambulla asking when they intend to stage protests in Colombo again. It was then that he had decided to talk to the President, together with the farmers present at the conference.
"Our members of Parliament and the Pradeshiya Sabhas have become a problem to the capitalist class, especially when we take up issues relating to the numerous instances of foreign travel by them. Therefore, they have started preparations to expel us through an election constitution," he added.