---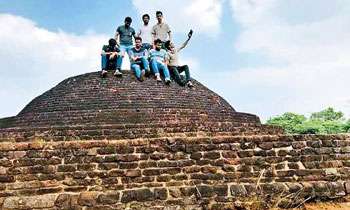 Seven youth who had climbed the ruined Chethiya in Kiralagala, Horowpothana had taken photos and released them onto social media.
The Horowpothana Police had launched an investigation. The police had acted on a complaint made to them by the Kiralagala Zone Archaeological officer yesterday.
It is said that this group of youngsters had entered the archaeological conservation illegally and after climbing the ancient Chethiya had taken photographs and later released them to the social media.
The police led by OIC Horowpothana Police Inspector Roshan Sanjeewa had identified the suspects as residents of Trincomalee and Ampara Districts and they are university students.
A senior officer of the Archaeological Department said that this site had been traced to have been in existence since the 3rd century AD and a historically important location. Despite the presence of a watcher, the suspects had posed for photographs and the police said that immediate steps would be taken to identify the suspects and take suitable further action in this regard. (Pathum Dharshana, Athula Bandara, Amadoru Amarajeewa and Chapa Madushani)