---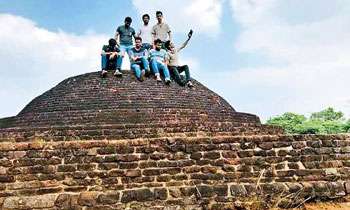 The seven youths, who had posted photos taken on top of the ruins of a Cheithiya in Kiralagala, Horowpothana on social media, were arrested by the Horowpothana Police this evening, Police Spokesman SP Ruwan Gunasekara said.
He said the youths, final year engineering faculty students of the South Eastern University, were arrested inside the university by the Horowpothana Police.
After receiving complaints regarding the obscene pictures seen to be harmful to Buddhism and Buddhist culture, the IGP had ordered an immediate investigation be conducted to arrest the suspects shown in the offensive pictures.
Thereafter, the Horowpothana Police yesterday launched an investigation into a complaint made to them by the Kiralagala Zone Archaeology Office and the suspects were arrested for contravening the Archaeological Act, he said.
It is said that this group of youngsters had entered the archaeological conservation area illegally and had taken obscene photographs after climbing the ancient Cheithiya and later posted them on social media.
The suspects were taken to the Horowpothana Police station and would be produced in the Kebithigollewa Magistrate's Court today (24). (Chaturanga Samarawickrama)