---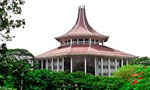 A public interest litigant lawyer yesterday filed a petition for the Special Determination of the Supreme Court on the Bill titled "Value Added Tax (Amendment) 2016.
Petitioner P.Liyanaarachchi challenged that certain provisions of the Bill were inconsistent with the Constitution and required a 2/3rd approval of the Parliament and the approval of the people by referendum. He claims the said Bill as a whole or in part is in vehement infringement of may entrenched Articles of the Constitution namely sovereignty of the People, excercise of sovereignty, Right to Equality, Directive Principle of State Policy, the full realization of the fundamental rights and freedom of all persons as well as the inference with judiciary.
He states the Bill placed on the Order Paper of the Parliament on July 8 also repeals the VAT exemption which was applicable to Telecom Services till May 2.
He states the said Telecom Services are already and continue to subject to among other taxes to a 25% Telecommunication Levy.
He states that the Telecommunication Levy Act was specially enacted to impose the said Levy for the existed taxes of VAT and NTB (Nation Building Tax).
He laments accordingly the services are subject to double taxation which is contrary to law, ethics, reasonableness and government policy. (S.S. Selvanayagam)