---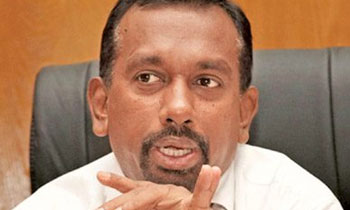 The people are waiting until Prime Minister Ranil Wickremesinghe is summoned before the Presidential Commission of Inquiry (PCoI) to Investigate and Inquires into the Issuance of Treasury Bonds, the joint opposition said today.
Joint Opposition member and MP Mahindananda Aluthgamage told a news conference that they did not know whether the real culprits would be summoned before the PCoI.
"We do not know what will happen in the future. However, it is necessary to find the real culprits. The PCoI has continued its proceedings for nine months. Many bigwigs of this government including the former finance minister have been summoned before the PCoI during this period," he added.
He said that United National Party (UNP) Chairman Malik Samarawickrama and its General Secretary Kabir Hashim also recently arrived at the PCoI and added that the proceedings were quite different at the PCoI on that day compared to the other days; "No cross-examination had been done," he added.
He alleged the people who were engaged with frauds amounting one or two lakhs were in the prison whereas people who had involved in frauds worth billions were languishing freely.
He also charged that the alleged bond sale issue could be considered as a large-scale robbery which had taken place with the state assistance.(Kalathma Jayawardhane)
Video by Buddhi