---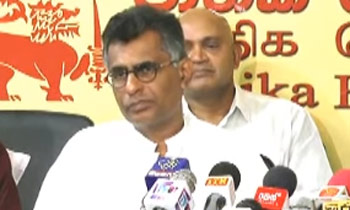 The Jathika Hela Urumaya (JHU) said yesterday that it was not to the trade unions but to this government that the people gave a mandate to administer the country.
JHU General Secretary and Minister Champika Ranawaka told a news conference that a small group of people should not be allowed to disrupt the essential services of the country and added that it was the responsibility of the government to ensure these services are supplied uninterrupted.
"We should not allow a small group of people to disrupt the essential services of the country. There should be constructive engagement in every sector. We cannot and should not allow people to disrupt the supply of electricity, water and fuel without prior notice," he said.
The minister said trade union and social rights were two different matters and trade unions should not be allowed to hold people hostage to win their demands.
"Political or trade union issues, should be resolved through discussions. They cannot act indiscriminately. This is precisely what happened during the former regime. These groups should hold discussions with the relevant authorities before resorting to trade union action. People are inconvenienced because of this mindless behaviour. We need to respond to these matters as a responsible government," he said adding that they should be resolved beyond party politics.
When asked about President Maithripala Sirisena's proposal to appointment of Minister Sarath Fonseka as Army Commander or overall security forces commander for two years, JHU Co-Chairman and Deputy Minister Karunaratne Paranavithana said it was only a Cabinet proposal and not a Cabinet decision.
"We are unsure as to what the President has in mind. He has not specifically said the role be given to Mr. Fonseka. It is only a suggestion. He will reveal the details if any in time to come. This proposal is not aimed at attacking trade unions. However, the government has to obtain the services of the Army to ensure uninterrupted essential services when trade unions stage protests on each and every issue. The President must have thought of appointing the most suitable military person to the post. This is not against good governance," the deputy minister said.
Meanwhile, commenting on the JHU May Day rally, the minister said the JHU would begin its rally from Pettah at 11.00 a.m. with the participation of the working class including porters. (Ajith Siriwardana)
Video by Indika Sri Aravinda