---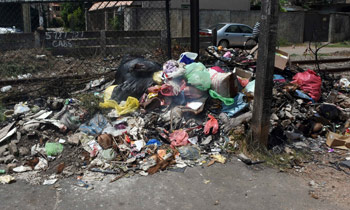 Though the Colombo Municipal Council collected garbage on a regular basis, people did not dump garbage at allocated places making the process of garbage collecting cumbersome, CMC Commissioner V. K. A. Anura said yesterday.
He said there were several piles of garbage remained in the city.
He said that the CMC had asked the assistance of the Armed Forces to raid illegal places of dumping garbage.
"Although we collect garbage on a regular basis, people do not dump garbage at appropriate places. Therefore, we have asked the forces and the Police to assist us to raid garbage dumping. So far, we have raided 111 such places and further raids will be carried out in future," the Commissioner told the Daily Mirror.
Though a considerable amount of garbage had been collected in the Colombo city during the last few days, the Daily Mirror witnessed several piles of garbage still remaining in the city.
Garbage piles have not seen at Dematagoda, Colombo 10, Colombo 03 and Manning Town in Borella. (By Sheain Fernandopulle)