---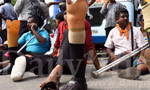 A pension would be paid for war heroes, who delisted on grounds of disability, Army Spokesman Brigadier Roshan Seneviratne said.
"The soldiers who voluntarily delisted from the army, before their 12 year service period ended, due to their disability have been demanding for a pension since 2008," he said.
He said that the Cabinet had decided to solve the problem after President's attention was drawn to the matter.
"Steps have been taken to allocate a provision in the Budget for 2017 for the payment relevant pension and to pay from 2007 on the instruction of President," he said.
The pension salary would be paid to disabled war heroes from February next year, in addition to salary and allowances, and the disability allowance, now they were being paid, he said.
"The President, Defence Ministry and the Commander of the Army and the Government have made them aware of these steps. But it is regrettable that some are holding protests to bring disrepute on the Government, taking it as a political project," he said.