---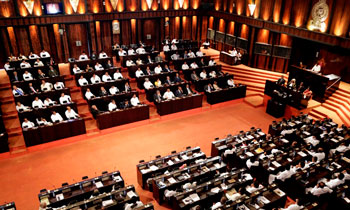 Joint Opposition MP Shehan Semasinghe yesterday requested Speaker Karu Jayasuriya to take some action to prevent the MPs who had admitted that they have taken money from Perceptual Treasuries Limited (PTL) Owner Arjun Aloysius, from humiliating other MPs.
"Two members of Parliament have already said that they have accepted money from Aloysius. Statements made by these MPs could result in public generating a negative perception on other MPs. Therefore we request you to take some action to prevent this," Mr. Semasinghe said.
Joint Opposition MP Ranjith Soysa said MPs who have actually accepted money from the PTL are in an attempt to cover up their misdeed by getting into the camp of those who have not made any deal with Aloysius.
He therefore told the Speaker to reveal the names of those who have transacted with the Perpetual Treasuries Chief.
MP Bandula Gunawardana said important issues in the country are going unnoticed as a result of the Bond issue and with the reports of MPs taking money from Aloysius.
"Government is to introduce a trade policy which is harmful to the nation and the House loses the opportunity of discussing other major issues because of the Bond drama," he said. (Yohan Perera)