---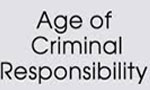 A proposal made by Justice Minister Wijayadasa Rajapakshe to amend the Penal Code to change the minimum age for criminal responsibility to 12 was approved by the Cabinet of Ministers today.
While addressing the Cabinet briefing today, Mass Media Minister Gayantha Karunatilaka said, in case of a child aged between 12 and 14, Magistrates could use their discretion to decide on whether criminal responsibility could be assigned. This was also approved by the Cabinet.
The current Penal Code precludes a child under the age of eight from being prosecuted for an offence, the Minister said. However, internationally, the minimum age of criminal responsibility varies from ages twelve to fourteen.
Psychologists and other experts have opined that eight years is far too young an age at which to incur criminal responsibility, he said. (Chaturanga Pradeep)
Video by Rishan