---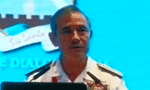 Partnerships of like-minded nations should be strengthened to uphold the rules-based global system to continue along a prosperous path, Admiral Harry B. Harris of the US Navy said in his key note speech at the Galle Dialogue 2016, held in Colombo today.
Admiral Harris said the Asia-Pacific region more accurately captured the fact that the Indian and Pacific Oceans were the economic lifeblood linking the Indian Ocean Subcontinent, Southeast Asia, Australia, Northeast Asia, Oceania and the United States together.
He also said he was thrilled to get to know the people of Sri Lanka as his work to deepen military-to-military relationship.
"Oceans that once were physical and psychological barriers that kept us apart are now maritime superhighways that bring us together," he said.