---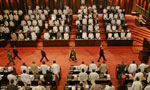 Parliament will meet on April 5 for the first time as the Constitutional Assembly to appoint committees to work on the Constitution-making process, House Leader Lakshman Kiriella said today.
The Constitutional Assembly is a committee of the entire House mandated to draft a new Constitution. Speaker Karu Jayasuriya is its chairman by virtue of his office.
Mr. Kiriella said the Constitutional Assembly would appoint various sub-committees and the Steering Committee on April 5.
"Its proceedings will be opened to the media. There is nothing to hide. People can know what we are doing to ensure transparency. If we have closed door sessions, the opposition members may say something inside and another thing outside to embarrass the Government. It happened regarding the proposal to increase allowances of the MPs. Some party leaders agreed to it at the meeting, but were critical of it outside. We want to avoid that scenario regarding the constitution-making process," he said.
After initial work, the evolution of the Constitution will begin in May. In April, the House will only meet during its first week. Already, the Committee on Constitutional Reforms has completed deliberations with the people.
The committee, headed by senior lawyer Lal Wijenayake, is presently discussing with the political parties and organizations to obtain their views on the constitutional changes.
Mr. Wijenayake said his committee would submit its report in April for consideration by the Constitutional Assembly. (Kelum Bandara)