---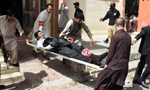 A bomb blast has killed 53 people at a hospital in the city of Quetta in south-west Pakistan, officials say.
Dozens of people were injured in the attack, which happened at the entrance to the emergency department where the body of a prominent lawyer shot dead earlier on Monday was being brought.
The casualties included lawyers and journalists accompanying the body of Bilal Anwar Kasi.
Gunfire followed the explosion. It was not clear who the attackers were.
Pakistani police have said they suspect the bomb was detonated by a suicide attacker.
Mr Kasi, who was president of the Balochistan Bar Association, had been shot while on his way to the main court complex in Quetta, local news outlet Geo TV reported.
Pakistani Prime Minister Nawaz Sharif condemned the attacks. "No-one will be allowed to disturb the peace of the province," he said.
"The people, policy and security forces in Balochistan have given sacrifices for the country."
The Chief Minister of Balochistan, Sanaullah Zehri, said those injured should be given the best medical treatment and facilities available.(BBC)