---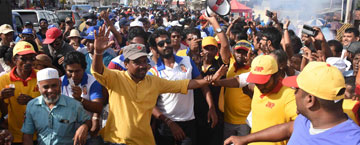 The Jana Satana Paada Yathra organised by the Joint Opposition was passing Maligawatte a short while ago on its fifth and final day.
The procession commenced its fifth day at the Kiribathgoda town this morning.
Originally the JO wanted to march up to the Hyde Park Ground, Colombo for its final meeting.
However, the Colombo Municipal Council has today started reconstruction work at the ground, with the use of backhoes and laborers.