---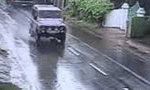 Six persons died and another 11 were injured in accidents involving the vehicles belonging to the Presidential Security Division (PSD) during the period January 9, 2015 to March 31, 2016, Parliament was informed yesterday.
A minister tabled these facts in the House in response to a question listed in the Order Paper by joint opposition MP Udaya Gammanpila.
State Minister Niroshan Perera had tabled his answer instead of reading it out as MP Gammanpila was absent at the time.
Mr. Perera , in his reply, had assured the House that effective measures were being taken to minimise the recurrence of accidents. (Kelum Bandara and Yohan Perera)