---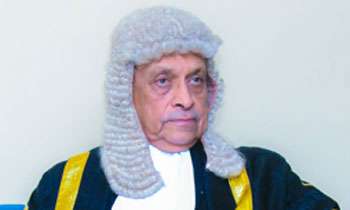 Speaker Karu Jayasuriya yesterday informed Parliament that Prime Minister Ranil Wickremesinghe would inform Parliament this week about the decision on the Provincial Council Elections.
He said this in response to an allegation made by Joint Opposition MP Dullas Allahapperuma that the Government was trying to evade Provincial Council Elections by delaying them despite the Supreme Court ruling against such moves by the Government.
He told Parliament that elections to three Provincial Councils had been delayed by eight months, while the term of three other was expiring in four months.
He said the Prime Minister had earlier assured the House that the Delimitation Report would be presented in Parliament in March debate it and hold the elections soon
"But no action had been taken so far," he said.
"Provincial Councils and Local Government minister Faiszer Mustapha tabled the Delimitation Report on March 8. It was included in the Order Paper on March 22 and May 22 to be debated in Parliament, but the Government evaded the debate on both days," he said.
Speaker Jayasuriya said on Monday he discussed the holding of the PC elections with the Prime Minister and that the Premier had informed him that the matter should be discussed with the Sri Lanka Freedom Party (SLFP).
Joint Opposition group leader Dinesh Gunawardane said the Supreme Court had ruled that elections could not be postponed without a referendum and added that the Speaker would have to face allegations of violating the Constitution if failed to act according to the constitution.
"Provincial Councils are part of the Constitution, unlike the Local Government Bodies. It is a violation of the Constitution not acting according to the Constitution," he said. (Ajith Siriwardana and Yohan Perera)