---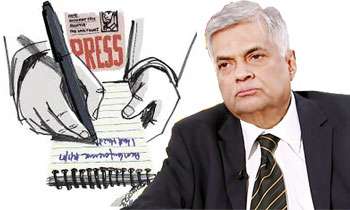 Journalists who are bent on bringing the Rajapaksa regime back to power do not realize that they are willingly putting a noose around their own necks, said Prime Minister Ranil Wickremesinghe yesterday at UNP Headquarters in Sirikotha.
Speaking further he said that a number of journalists who are propagating the Rajapaksa mantra would go missing if and when that regime is brought to power.
He made these remarks at a function to greet Minister Navin Dissanayake as the new National Organizer of the UNP.
Mr. Wickremesinghe elaborated further saying "One thing is certain that those journalists who appear on behalf of the regime would disappear in the event they come to power. That is the system they employ to control the media.
Therefore, I need not remind you once again that you are only putting a noose around your own necks by supporting them," he said.
He also ventured to speculate that what he said would not be reported in any of the local dailies while the electronic media would also not give it prominence. "It is not an issue. Our members should keep what I said in mind," the PM said.
They are bent on establishing a regime once again. Let's call it "Rajapaksa Regime 2". Do you want democracy to prevail or do you wish to welcome "Rajapaksa Regime 2"?. You have to decide which you prefer. (Anjula Mahika Weerarathne)