---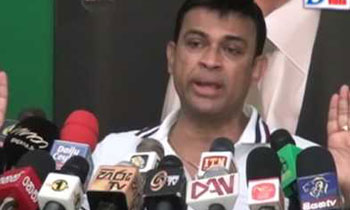 The Prime Minister Ranil Wickremesinghe should not heed to any request from anyone to intervene in the case of Joint Opposition MP Wimal Weerawansa who was arrested, Deputy Minister Ranjan Ramanayake said on Tuesday.
Mr. Ramanayake told media that the Prime Minister may get phone calls requesting that he should intervene in the case but should not respond to those.
"People of this country expected President Maithripala Sirisena and Prime Minister Ranil Wickremesinghe to be tough leaders such as the current Pilipino President Rodrigo Duterte who push down drug dealers from flying helicopters, but our President and Prime Minister are not that tough and allow legal proceeding to move against wrong doers," he said.
"If they act like President Duterte they will have to push down at least 175 members of Parliament out of the total 225 from flying helicopters," he added.
Further he said even those government politicians who are engaged in corruption should be dealt with.
"The government should deal with corruption in the same way in which late Fidel Castro dealt with Arnaldo Ochoa Sanchez who was charged with various crimes and drug smuggling," Mr Ramanayake added.(Yohan Perera and Tilakaratne Dissanayake)
Video by Janaka