---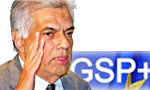 Prime Minister Ranil Wickremesinghe said today he would visit Brussels on Saturday to re-negotiate GSP Plus trade facility with the European Union.
Prime Minister Wickremesinghe said this at the World Export Development Forum 2016 organised by the Export Development Board (EDB) and International Trade Centre which got underway this morning.
"On Saturday I will be leaving for Brussels to re-negotiate GSP Plus, he said while stressing that Sri Lanka needed to find markets for its products in order to increase exports, which would enable growth.
"We had the GSP+, so did Bangladesh. We gave it up while Bangladesh kept quiet, and increased its exports on garments alone.
"We focused instead on foreign remittances. But that is limited as it brings a limited income from large number of people," he said.
The Prime Minister said Sri Lanka would be working on several free trade agreements and also a comprehensive economic partnership with Japan, while the country was looking towards signing free trade agreements with Bay of Bengal countries.
"We have three important agreements -with India, the Economic Technological Cooperation (ETCA) agreement. It will enable us for closer cooperation with India, especially with the five Southern States, with Sri Lanka being the fastest growing area in the sub continent. At the moment there is a combined GDP of $ 500 billion. There is a lot of scope for Sri Lanka and India to work together," he said.
He also said Sri Lanka would be working on another FTA with Singapore. The Prime Minister said Sri Lanka would negotiate on Free Trade Agreement with other Bay of Bengal countries as well.
"The Bay of Bengal will be a fast growing region with fast growing incomes," he said.
He said Sri Lanka was currently talking with China on a Free Trade Agreement under One Gate, One Road initiative.
"This way we can reach for Asian markets and the European markets. The way USA will develop will be known after November, when the new regime takes over. But we have made the plans as far as markets are concerned," he said.
He said a programme of giving incentives to the foreign direct investments and local investments would be announced shortly.
The Prime Minister said one core area that would be focused on would be to give incentives to domestic manufacturing industries to become competitive. (Yohan Perera)