---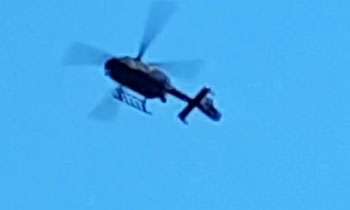 The helicopter carrying Prime Minister Ranil Wickremesinghe was forced to land in an alternative spot in Kuruvita when a group of students of the Sabaragamuwa University staged a protest against his arrival yesterday. Originally the chopper was to land at the playground of Seevali Central College in Ratnapura.
The Prime Minister was in Ratnapura to attend a ceremony held to mark the occasion of the Ratnapura Hospital being upgraded into a Teaching Hospital. He also attended the opening ceremony of medical faculty at the Sabaragamuwa University.
According to sources close to Mr. Wickremesinghe, the helicopter which he was flying in had landed at the Seevali College playground as scheduled, but had to be removed shortly afterwards to another playground of a school in Kuruvita when university students staged a protest against his arrival.
"The students were planning to block the Prime Minister's vehicle but he gave them the slip by going to Kuruvita and thereafter to Colombo by helicopter," sources claimed. (Yohan Perera and Prince Ratnayake)