---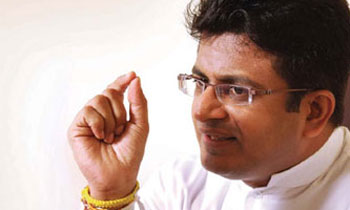 The Joint Opposition today said that the written assurance given by Prime Minister Ranil Wickremesinghe to the Ceylon Petroleum Corporation (CPC) was misleading and the government would go ahead with the proposed agreement to be signed with India regarding the Trincomalee oil tanks.
JO member MP Udaya Gammanpila told a news briefing that the written assurance given by the Prime Minister's Secretary had not assured that no agreement would be signed regarding the China Bay Oil Tank Farm in Trincomalee during his Indian tour.
"In the written assurance, it has only mentioned that they would hold discussions with the CPC prior to the signing of any agreement regarding the Trincomalee oil tanks. So it has already proven that the government will sell these oil tanks to India," he said.
Meanwhile, JO member Pro. Tissa Vitharana said 74 of the Trincomalee oil tanks were already decided to offer to India by the government on a long term lease even though they have continuously said that they would not sell these to India.
JO member MP Dullus Alahapperuma said the country was more important to them than anything else and added that they would stand against any injustice faced by the country.
"The selling of Hambantota Port to China was also temporarily halted to a certain extent with the intervention of the people and the joint opposition," he said. (Kalathma Jayawardhane)
Video by Buddhi,Sanjeewa