---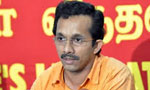 The Prime Minister's office yesterday dismissed Committee on Public Enterprises (COPE) Chairman Sunil Handunnetti's allegation that referring the COPE report on the bond scam to the Attorney General was wrong.
The statement said Mr Handunnetti had criticized this move by the Prime Minister when the COPE secretary had also referred it to the Attorney General.
"There is nothing wrong in the Prime Minister referring the COPE report on the bond scam to the AG because it was an institution which comes under his purview," it said.
The Prime Minister referred the COPE report to the AG on November 2 seeking his advice on the matter. "Also the Prime Minister, as the subject minister, had informed the Parliament Secretary General on November 9, to send several more documents, as requested by the Attorney General with the permission of the Speaker of Parliament," the statement said. "On several occasions, the Prime Minister himself informed Parliament about these developments. And even agreed to have a debate on the COPE report and on all those occasions, MP Handunnetti didn't mention that the Prime Minister had used the Speaker's powers and now he (Handunnetti) was attempting to build such an argument."
The statement said "Parliament has already expressed its views on the committee on Public Enterprises (COPE) report."
The statement also said that all members of COPE who represents political parties in parliament had stated that they accepted the COPE report.