---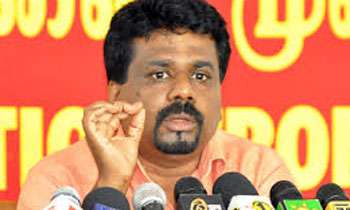 JVP leader Anura Kumara Dissanayake said today Prime Minister Ranil Wickremesinghe and former president Mahinda Rajapaksa should take the responsibility to bring back to the country Central Bank's former governor Arjun Mahendran, former Sri Lanka ambassador to Russia, Udayanga Weeratunge and former Sri Lankan ambassador to US Jaliya Wickramasuriya, who were absconding after defrauding public funds.
He told parliament that Mr. Wickramasuriya and Mr. Weeratunge were relatives of the ex-president and Mr. Mahendran a confidant of the Premier.
"Mr. Mahendran was appointed as CB governor on the recommendation of the Prime Minister. He is the Premier's close confidant. So he has a personal responsibility to make an effort to bring down Mr. Mahendran without seeking international assistance," Mr. Dissanayake said.
He said Mr. Mahendran was the government authority assisting Arjun Aloysius to engage in the bond scam.
"Aloysius did not loot the CB alone. It was Mr. Mahendran who assisted him to do so," Mr. Dissanayake said.
He asked the Prime Minister whether any action had been taken to prevent Mr. Mahendran's property being sold or suspended as in the case of Jaliya Wickramasuriya and Udayanga Weeratunge. (Ajith Siriwardana and Yohan Perera)