---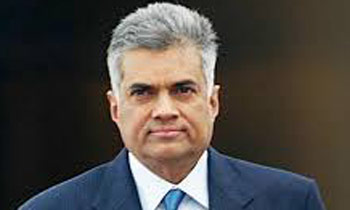 Prime Minister Ranil Wickremesinghe yesterday called for a joint effort of all nations in the Indian Ocean Region to counter offshore terrorism which he said had raised its ugly head posing a threat to the said region.
The Prime Minister made this remark addressing the 3rd counter terrorism conference which was underway in India last morning.
"Ground terrorism is over now but offshore terrorism had raised its ugly head and all nations in the Indian Ocean Region must come together to counter it," he said addressing the conference via Skype last afternoon.
"Half of the marine movement in the world goes though the Indian Ocean bringing benefits to the nations in the region and to the countries in the Middle East and the emerging offshore terrorism had posed a threat," he added.
He said focus should be made on the digital terrorism as well.
"One cannot consider terrorism of one man as the freedom of another," he said while highlighting that all nations in the region should play a role in defeating offshore terrorism through communication, dialogue and through cooperation," he added.