---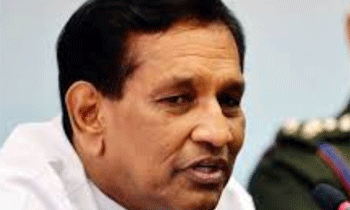 Responding the query as to how and where Rs.10 million was allocated from the Presidential Fund for the surgery of Health Minister Rajitha Senaratne in Singapore, Minister Senaratne said that it was Prime Minister Ranil Wickremesinghe who ordered him to go abroad for the operation.
Addressing the media on Wednesday during the cabinet briefing, Dr. Senaratne said although he had wished to undergo the surgery in Sri Lanka, the Premier had compelled his son to take Minister Senaratna elsewhere for the surgery.
"When the Premier said that he would settle the accounts, I had to obey him. I do not want to waste the money of the poor. If I had wanted, I could have done it easily. But since the order came from above, I did so," Mr. Senarantna said.
He proceeded to say that he was not the only MP to go abroad for medical purposes and therefore it was not reasonable to accuse him for allocating money from the Presidential Fund.
"There was a rumour spreading that some had engaged in exorcism to curse me. The PM had a fear that the same fate of Ven. Sobitha Thera would befall me. That's why he commanded my family members to take me abroad for the operation. Therefore, don't misinterpret the incident," he added.(Sheain Fernandopulle)
Video by RM