---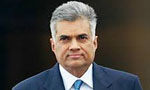 Prime Minister Ranil Wickremesinghe arrived Hong Kong this morning with seven a member delegation to take part in the fifteenth Asia-Pacific Conference of German Business 2016.
The premier was welcomed by the Sri Lankan Ambassador in China Dr Karunasena Koddithuwakku and officials of the Sri Lankan embassy at the airport.
Mr. Wickremesinge is expecting to address the 15th Asia Pacific Conference on German Business which is to be held at the Hong Kong Convention and Exhibition Centre today.
The Prime minister will engage in a working breakfast with Vice Chancellor Sigmar Gaberiel earlier today. This meeting will be attended by nearly 40 persons including ministers from Indonesia, Australia and Hong Kong.
The premier is to hold bilateral meetings with Vice Chancellor Gabreial where bilateral economic relations and current economic situation in Sri Lanka will be discussed.
The delegation was accompanied by Professor Maithri Wickremasinghe, Sri Lankan Ambassador in China Dr. Karunasena Koddithuwakku, Additional Secretary to Prime Minister Saman Attaudahetti and National Policies and International Trade Minister Malik Samarawickrama.
Video courtesy PM Media