---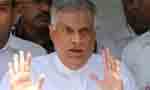 Prime Minister Ranil Wickremesinghe has appointed a four member high powered Committee of public officials headed by Presidential advisor W.J.S. Karunarathna to recommend criteria to be used as guidelines when appointments for the posts of Chairman, Board of Directors and CEOs of state owned enterprises are made, the Daily Mirror learns.

Mr. Wickremesinghe has pointed out the dismal performance of Public Enterprises in Sri Lanka as reasons for this measure and added no tangible steps had been taken by any previous administrations to arrest this sorry state of affairs at state ventures despite the fact that these shortcomings had been highlighted in many studies undertaken in the past.
The proposal has got the cabinet nod and the committee will meet at the Presidential Secretariat.

"The lack of a clear-cut policy directives with regard to management of Public Enterprises, failure to delegate decision-making to senior management, absence of commercial consideration and business decisions, political interference in the appointment of staff as a reward for services to political parties and politicians, failure to adopt practical guidelines for the selection and nomination of Directors of Public Enterprises have been identified as some of the key constraints to improve performance of Public Enterprises," Mr. Wickremesinghe has stressed in his memo to the Cabinet .

In view of the government declared policy to set up a holding company to streamline the operation of the Public Enterprises and convert them to assets that could be marketed, it is timely and prudent to activate a process implementing best practices for selection of competent. Directors by adopting a set of criteria for consideration for appointment of Board of Directors including Chief Executives as well as non- official Directors, he said.

When considering it useful, Mr. Wickremesinghe will consider the criteria recommended by the official committee when appointments to top posts to the state enterprises are made.

Other members of the committee are Defence Secretary, Karunasena Hettiarachchi, Charitha Ratwatte, Senior Advisor to Prime Minister, and Mahinda Haradasa, Attorney to Prime Minister's office.