---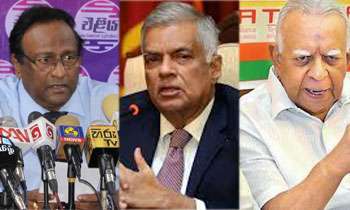 Prime Minister Ranil Wickremsinghe has given his consent to ten conditions proposed by the Tamil National Alliance (TNA), to apparently please the Tamil Diaspora, former MP and retired Rear Admiral Sarath Weerasekera alleged yesterday.
He told the Daily Mirror that one of the main conditions was to draft a new constitution which would make Sri Lanka a federal State.
"The tactics of the PM would divide the country and Mr. Wickremesinghe is betraying the country by giving priority to condition put forward by the TNA. It became evident how strong the relationship between the TNA and Premier Wickremesinghe when the TNA voted against the no-faith Motion against him," Mr. Weerasekera claimed.
"It is a shame to say that TNA being the official opposition party in Parliament, is voting in favour of Prime Minister Ranil Wickremsinghe against whom several allegations have been levelled pertaining to the controversial Central Bank bond scam," he added.
Meanwhile, he said all the members of Parliament who voted in favour of the PM, should bear the responsibility for any actions of the Mr. Wickremesinghe in future.
"All the members who voted against the No faith motion are not honest and if there had been enough honest politicians in Parliament, the PM should have been removed," he said. (Sheain Fernandopulle)