---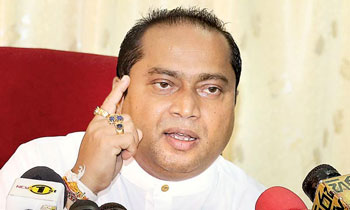 Western Province Chief Minister Isura Devapriya said yesterday that the Chief Ministers of all nine provinces had agreed to pass a resolution enabling provincial councils to be the sole decision making bodies with regard to approving physical plans.
The chief minister said the decision making on physical planning was thus far mutually conducted by the respective provincial councils and the Urban Development Authority (UDA).
"However, the UDA is planning to take away the decision making right of our councils so that they could make decisions on their own. We will adopt resolutions in our councils empowering the provincial councils to make decisions on physical planning," he said at a media briefing.
He said neither a Ministry nor the UDA had authority to take away the powers of the provincial councils.
"Clearly someone has deceived the UDA chairman. The income generated by this subject has already been added to the budget. That is also a matter of serious concern. The UDA has many ways of getting income unlike Provincial Councils," he said.
"We have been given the power to enact such resolutions by the Constitution. Many Provincial Councils, including the Western and Northern councils, have protested against the UDA action. There is no legal barrier to adopt a resolution in this regard. Therefore, we will adopt this as soon as possible and before the end of the tenure of the current Provincial Councils," he said.
He said that they could reverse the UDA decision through this resolution. (Thilanka Kanakarathna)
Video by Indika Sri Aravinda