---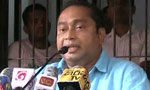 The Provincial Councils had been ill-treated in the budget and we would bring this to the notice of the President, Western Province Chief Minister Isura Devapriya said.

"We are not concerned with the new budget as a whole but Provincial Councils were discriminated against in the allocation of funds.

"Funds allocated to PC is Rs. 9 million less compared to 2016," he said at a ceremony held in connection with the opening of the Physical Training Centre, in Nivudawa Arukgoda, Bandaragama.
Video by Bimal Shaman Jayasinghe