---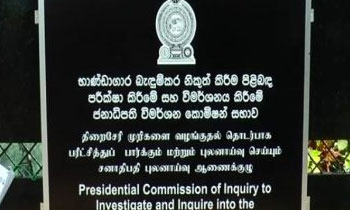 After a weeks break, the proceedings at the Presidential Commission of Inquiry (PCoI) were due to resume today (2).
It is also likely that the cross-examination of former Central Bank Governor Arjuna Mahendran by Additional Solicitor General Dappula De Livera would continue today as well.
Following the startling facts that emerged during the cross-examination of Mr. Mahendran on Friday (22), the PCoI comprising Justice K.T. Chitrasiri (Chairman), Justice Prasanna Jayawardena and Retired Deputy Auditor General Kandasamy Velupillai adjourned proceedings which would re-commence today at 10 am.
During the previous sitting Additional Solicitor General Dappula De Livera suggested to the witness that no requirement of funds to the amount of Rs.75 bn was reflected in the cash-flow statements of the Treasury on March, 2015 or April, 2015, hence the witness was lying about the February 26 meeting with Ministers Ravi Karunanayake, Kabir Hashim and other officials.
Bringing up another irregularity ASG De Livera questioned the witness as to why the letter sent by Minister Ravi Karunanayake so long ago was still crisp and fresh when it was submitted to the Commission, to which the witness answered that he kept this letter carefully and that was the reason for its freshness.
The ASG also suggested that the Govt.'s urgent fund requirement mentioned by Prime Minister Ranil Wickremesinghe in Parliament and the total bid amount of Rs. 15 bn made by the company in the centre of the bond scam controversy Perpetual Treasuries Ltd. at the Feb 27 auction were ironically similar.(Shehan Chamika Silva)