---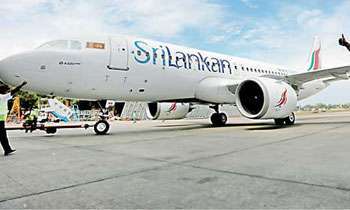 The Presidential Committee appointed to look into SriLankan Airlines has in one of its recommendations said the airline should team up with a strategic partner, preferably a non-competitor, to revitalise the national carrier, State Minister of Finance, Eran Wickramaratne said yesterday.
The Committee, headed by the State Minister, submitted its report within the stipulated time of two weeks to President Maithripala Sirisena.
The President is now expected to request the subject minister to proceed with the implementation of these recommendations. He advised that in the absence of an airline partner, a non-airline partner should be found.
The State Minister told journalists that the net loss incurred by the national carrier was some US$ 100 million last year.
"There was a total loss of US$185 million. But with profits of US$80-85 million from ground handling and catering, the net loss was down to US$100 million," he said.
The State Minister said the government, as a shareholder, had limit to injecting capital and therefore his committee recommended internal capital generation as an option.
He said ground handling, catering and engineering would be one of the better options to generate internal capital.
"It is very difficult to quantify the economic benefits," he said, while adding that the airline could not be operated purely on financial returns and stressed the need to operate it on economic returns as opposed to financial returns.
The Committee had also proposed the closure and start up as another solution to the problem faced by the national carrier, but closure itself would be expensive in the present context.
"It is not possible. We need to adopt a bankruptcy law. Once such a law is available, it will strengthen the negotiating position," the State Minister said.
The Commission says that leasing arrangements were unreasonable according to evidence made available to it.
"Leasing arrangements should be renegotiated with the total outstanding debt at US$900 million," the State Minister said.
He said forming a co-operate structure of the airline governance was a fundamental importance and for that purpose an independent body should be established.
The State Minister also said government control was there for a long time, but it had not produced the desired results and instead of the government identity for the airline, he proposed a Sri Lankan identity. (Kelum Bandara)