---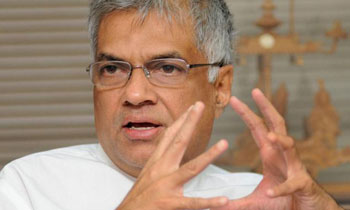 The government will have to postpone the provincial council elections by one year to enable electoral experiments, Prime Minister Ranil Wickremesinghe said yesterday.
He said this at the distribution of certificates by State Minister Sujeewa Senasinghe in Malabe to women trained under the 'Diriya Kathun' programme.
"We have started experimenting with the 25 per cent women representation in local bodies. Each party will have to do it and rectify shortcomings if there are any. It will be then extended to the provincial council level. This is why we have to postpone provincial council by a year," the Premier said.
He said the opportunity to experiment with new electoral systems was lost during the past ten years.
"Government is focusing on involving more women in politics. Only a few women get involved in politics today. It is same with the youth. I had to push people like Mr Senasinghe in to politics. They were reluctant to take up politics as a result of the manapa system. However today we have introduced a mixed system at the local government level. Those who obtain small percentages of votes will now have the opportunity to come into local bodies," the Prime Minister said.
He stressed the need for a national government to revive the economy which was being done gradually by bringing in foreign investors while encouraging local investors.
The Prime Minister said the government would launch a three-year development programme with the participation of President Maithripala Sirisena on Monday.
"We are focusing on women when it comes to economic development. Women are in several sectors in the economy. Economy is virtually run by women. Women involvement has to be increased. Women account for 35 per cent of the country's workforce. Government's target is to increase it to 40 per cent. Minister Senasinghe is engaged in a woman's empowerment programme and is training them to become entrepreneurs in the apparel industry. This is a lucrative business. Both young men and women prefer tailor made clothes rather than purchase them from the market. It is same worldwide. There are others who prefer branded clothes. If I come here in five year's time some of these women would have become entrepreneurs and also some of them may do their sewing using computers considering the technological development. Time will come when it will be possible to download patterns from the mobile phones," he said.
The Prime Minister said a new thousand acre industrial zone in Horana was to be launched by a Thai company and the government had agreed to release 400 acres initially. He said Avissawella will also have an industrial zone and that discussions were underway with some Indian companies to set up another industrial zone in Weligama. "These are parts of a vast development programme and Minister Senasinghe will play a prominent role in it," he said. (Yohan Perera)