---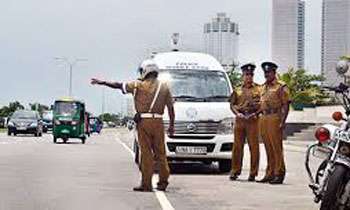 Over 5,000 policemen from various units armed with all riot controlling mechanisms will remain standby to face the anti-government protest organised by the joint opposition 'Janabalaya Kolambata' today in Colombo.
A top official at the Police Headquarters disclosed the Daily Mirror last night that over 5,000 policemen called in from a number of police stations in the Greater Colombo area and its suburbs will be deployed to control traffic and safeguard law and order situation.
Contingents of police will especially be deployed in major locations in the city where the protest march could reach including Colombo Fort and Railway Station area, the Lipton Circus in Town Hall and the Liberty Roundabout in Kollupitiya, he said.
Since the origination, the routes or the end destination and the chief gathering point of the protest campaign was not disclosed by its organisers even till midnight yesterday, the police will have its troops stationed in many other crucial points in the city.
Also, the chief entry and exit points with routes to the Colombo including Galle Road, Kandy Road, Negombo Road, High-Level Road as well as Battaramulla Road will be heavily monitored during today.
The police deployment will also consist of a large contingent of Police Special Task Force personnel to face any unlawful occurrence and disruption to the day-to-day civil lifestyle by the unruly protesters.
Meanwhile, Police Anti-Riot Squads armed with Water Cannon Units as well as Tear Gas Canisters will be kept ready for any unruly atmosphere.
The senior official said that although they had received explicit instructions to use the minimum force in controlling the protest, relevant action would be taken to counter any situation disruptive to the normal civilian lives. (Kurulu Koojana Kariyakarawana)