---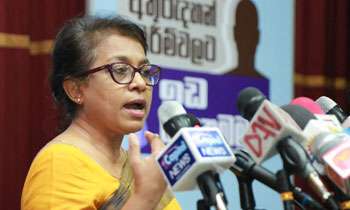 The prevailing outdated administrative system has slowed down the Human Rights Commission of Sri Lanka's (HRCSL) performances and outcome which are expected as an independent commission, HRCSL Chairperson Dr. Deepika Udagama yesterday said.
She said an Independent Commission should not be considered as yet another state department or a corporation.
"The Independent commissions including the HRCSL and the Office on Missing Persons (OMP) were established from the 19th Amendment to the Constitution, a move which is greatly appreciated. The HRCSL had many a plans ahead of us when it was established three years ago.
However, though we have no political influence, the expected performances were not achieved because of the outdated administrative system. These Commissions should be empowered more," she told an event organised by the OMP to mark the International Day of the Enforced Disappearances.
Dr. Udagama said democracy has not yet been properly established in Sri Lanka, and therefore, institutions find it hard to execute their duties.
Meanwhile, she said Sri Lanka is known as a symbol of human development across the world, and therefore, it was not acceptable for such a country to have a record to grave crimes, including enforced disappearances. (Lahiru Pothmulla)