---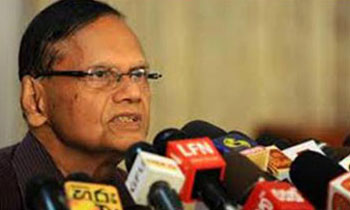 The Joint Opposition (JO) yesterday said the government should take into consideration the mounting opposition to the Free Trade Agreements (FTA) without acting in an authoritarian manner.
Addressing a news briefing, Professor G.L. Peiris said that former President Mahinda Rajapaksa considered the grievances of and complaints made by local business community members to the Comprehensive Economic Partnership Agreement (CEPA) during the previous government's tenure.
"Mr. Rajapaksa informed me of the concerns raised by our businessmen who said CEPA was destructive to them. Mr. Rajapaksa asked me to inform India that we cannot go ahead with the agreement in this manner. However, the incumbent government is not listening to any concerns raised by professionals to the Economic and Technological Cooperation Agreement (ETCA) or the FTA with Singapore," he said.
He said it was surprising to note that TNA MP M.A. Sumanthiran who complained about the lack of Tamil translation of the Bond Commission report, raised no issue when there is only the English copy available on the FTA with Singapore. (Lahiru Pothmulla)
Video by Sanjeewa