---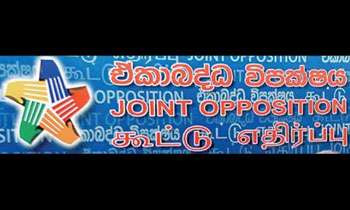 The joint opposition's struggle to secure the opposition leader's post had not ended but had just begun, MP Bandula Gunawardene said yesterday.
He said this in response to a question raised by journalists whether there was any legal provision to contest the ruling given by Speaker Karu Jayasuriya.
"Speaker's ruling is not a defeat and it has not ended our struggle," the MP said.
MP Chandima Weerakody said the Speaker's ruling was unfair as TNA MP R. Sampanthan cannot function as Opposition Leader because his party is actually supporting the Prime Minister and the government. "Prime Minister Ranil Wickremesinghe managed to show a majority with the support of the TNA. Therefore how could one consider the TNA as an opposition party," Mr. Weerakkody asked.
He said even the JVP could not be consider an opposition party because it was also dealing with the government.
Mr. Weerakkody faulted the Speaker for not allowing the JO to voice its opinion on his ruling regarding the opposition leader's post.
Quote -- Prime Minister Ranil Wickremesinghe managed to show a majority with the support of the TNA. Therefore how could one consider the TNA as an opposition party. (Yohan Perera and Ajith Siriwardana)