---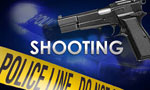 A 52-year-old person had been reportedly shot dead in Meegaspitiya area in Uragasmanhandiya, Galle this afternoon, the Police said.
They said the victim was travelling in a three-wheeler, when he was shot dead by two unidentified men on a motorcycle.
The victim was identified as Nandasiri Sandaruwan Samarasinghe, a resident of the Uragasmanhandiya area. No arrests had been made.
Investigations are conducted by the Uragasmanhandiya Police. (Chaturanga Pradeep)