---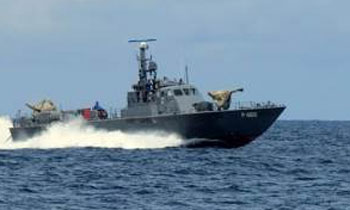 A fisherman had been killed and another was injured when a fishing boat bumped into a Dora vessel of Sri Lanka Navy in the seas off Karainagar in Jaffna last night, the Navy said.
Navy Spokesman Commander Lankanatha Dissanayake said the Dora vessel of the Naval Northern Command, which was deployed to transfer Indian fishing boats, which was in Sri Lankan custody back to the Indian fishermen, had bumped with the local fishing boat at around 8.30 p.m. Saturday night off Karainagar.
"The SLN Dora was traveling at around 6NM at slow speed because the Navy was guiding the Indian fishermen to their territorial waters with released boats at the time of the accident," he said.
He said two fishermen were onboard at the time of the accident and one of them had jumped to the sea when the boat crashed.
Both the fishermen were brought to the SLNS Elara and were admitted to the Jaffna Hospital.
The Police said the 46-year fisherman died after being admitted to the hospital and his son was undergoing treatment.
They were identified as residents of Karainagar. The Kayts Police are investigating. Autopsy is yet to be conducted on the victim.(Darshana Sanjeewa)