---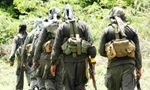 One soldier died and at least nine others were hospitalized due to a sudden illness while undergoing training at the Special Forces training camp in Maduruoya today.
Military spokesman Brigadier Jayanath Jayaweera said they suspected that the soldier who was a resident of Kadurugaswewa died due to severe dehydration.
He said the Army Commander had instructed the military Police to conduct an investigation into the incident and said they would also provide assistance to the Police in their probes.
Police said the military personnel were initially admitted to the Aralaganwila hospital and later transferred to the Polonnaruwa hospital.
The post mortem inquiry into the soldier's death is to be held today.(DS)