---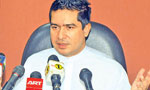 Member of the Parliamentary oversight committee COPE, and State Minister of International Trade Sujeewa Semasinghe Senasinghe said there would be only one COPE Report, which would be presented to Parliament by COPE Chairman Sunil Handunetti, with the comments of different or dissenting views of a number of other members.
He admitted that there was an issue of Conflict of Interest, if and when one of the primary dealers, Perpetual Treasuries, among 17 other dealers registered with the Central Bank, had earned an unusual and un-proportional profit in the bond market because this particular company was managed by the son-in-law of former CB Governor Arjuna Mahendran.
State Minister Senasinghe addressing the weekly Cabinet news briefing at the Parliament complex said yesterday the UNP in anyway did not attempt to save any individual or establishment involved in the bond scam or sweep it under the carpet.
"But the objective was to go to the bottom of the scandal and tell the public the absolute truth on the issue," COPE member and State Minister of International Trade Sujeewa Semasinghe said.
"There will be only one COPE report and we try our best to submit it to Parliament within this week. There are no dissenting reports as suggested by certain media and the Joint Opposition. The FCID, CID and the Bribery Commission are free to open a formal inquiry, if the COPE Report incriminated any individual or establishment over the bond issue and huge profits recorded by the Perpetual Treasuries in such a short period of time. We support fully such an action," he added. (Sandun A Jayasekera)
Video by RM