---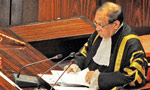 The joint opposition yesterday requested Speaker Karu Jayasuriya to review the procedures followed in passing the Office of Missing Persons (OMP) Bill.
MP Dinesh Gunawardane told Parliament that the procedure followed in passing the Bill should be looked into as it seemed that the legislation was passed in violation of the Constitution.
He said the members of the proposed OMP are to be appointed by the Constitutional Council. But he said it did not come under the independent commissions appointed by the Constitutional Council under the 19th Amendment to the Constitution.
"In such a senario what had actually happened was a grabbing of powers of the executive president," the MP said adding that the Bill was not passed in keeping with Standing Orders.
"Errors made on Thursday when enacting the OMP Bill should be rectified," the MP said. (YP)