---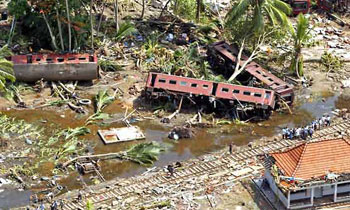 The Disaster Management Centre has decided to observe two minutes of silence from 9.25 a.m. to 9.27 a.m. today, as a mark of respect to those who lost their lives by the tsunami disaster that hit the coastal belt of Sri Lanka on December 26, 2004.
The main commemoration ceremony will be held at Peraliya in Hikkaduwa, where one of the largest single rail disasters took place as a result of tsunami waves. Commemoration events will also be held in all 25 districts with the support of Divisional Secretariats and Divisional Disaster Management Centres.
Tidal waves of up to 30 metres, caused by a series of earthquakes measuring a magnitude of 9.1 to 9.3, took place in the epicenter off the West coast of Sumatra, affecting 14 countries including Sri Lanka, India, Indonesia, Malaysia, Maldives, Myanmar, Somalia, Thailand, Bangladesh, South Africa, Madagascar, Kenya, Tanzania and the Seychelles.
One of the deadliest natural disasters in recorded history, the 2004 tsunami had reportedly killed 230,000-280,000 people in 14 countries. However, estimates state that in Sri Lanka, 36,603 people perished, some 5,000 went missing and another 800,000 displaced as a result of the catastrophe. The disaster has affected not only lives but also property amounting to billions or rupees.
Tsunami flooding consisted of three main waves with the second being the largest and most destructive. It hit the country approximately two hours after the earthquake. This influenced the authorities to implement a proper disaster management mechanism.
As a result, the Disaster Management Act came into being in 2005 and the Disaster Management Centre was established instituting a national disaster risk management system. (Thilanka Kanakarathna)