---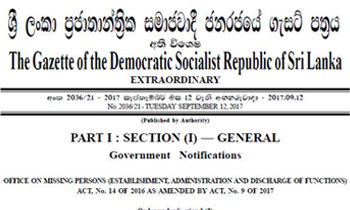 The gazette notification announcing the President's order to establish the Office on Missing Persons (OMP) had been published yesterday, the Government Information Department said.
The extraordinary Gazette notification issued yesterday said
'By virtue of the powers vested in me by Section 1 (2) of the Office on Missing Persons (Establishment, Administration and Discharge of Functions) Act, No. 14 of 2016 as amended by Act, No. 9 of 2017, I, Maithripala Sirisena, Minister of National Integration and Reconciliation do by this Order, appoint September 15, 2017 to be the date on which the provisions of Parts I, II, III, IV and V of the aforesaid Act shall come into operation'.