---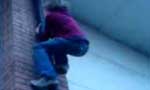 Wellawatte police arrested a man who had allegedly entered a house on the sixth floor of an apartment complex in Wellawatte by climbing up a sewerage pipe and fleeing with jewellary worth Rs. one million and Rs. 250,000 in cash.
The suspect, a resident of Kohuwala is the owner of a three storied luxury house equipped with modern electrical items and furniture and a luxury van, according to the Wellawatte police.
He had been in prison for some time for several house burglaries and had been released only three weeks ago, police said.
After interrogating the suspect police had recovered the jewellery and money stolen from the Wellawatte apartment. His wife has also been arrested as it was revealed that the man had been using his wife to mortgage the jewellery stolen from houses in various areas.
The 31 year old suspect is a father of three and said to be a drug addict. It has been revealed that he had robbed around 20 more houses and police had initiated investigations on those incidents as well.