---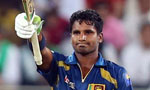 Kusal Janith Perera has said that he has not been banned yet and the official hearing into the doping charges against him is to be held in May.
Media reports quoting Sports Minister Dayasiri Jayasekera this evening said that the International Cricket Council (ICC) has imposed a four year ban on Kusal Janith for allegedly using banned substance.
After these reports, former Captain Mahela Jayawardane tweeted; "Spoke to Kusal. He is suspended and has an official hearing in May. Then ICC will decide on his future. He is not banned yet according to Kusal."
According to the ICC, Kusal has not been banned but only suspended until the inquiry is over.

Video by Buddhi