---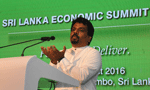 Janatha Vimukthi Peramuna (JVP) Leader Anura Kumara Dissanayake said yesterday they were ready to co-operate in selling loss making State-owned Enterprises (SoEs), which do not have a direct impact on the public lives.
While delivering a speech at the Sri Lanka Economic Summit 2016 in Colombo last night, he said the management of loss making SoEs should be handed over to private investors without settling the loss.
"If the government is capable of settling the loss, it should also be able to manage SoEs afterwards. Therefore, loss making government institutions should be handed over without writing off the bad debt. Similarly, if the government could take over the liabilities of SriLankan Airlines prior to the sale of the carrier to a private party, they should also be able to take over the assets and run the airline," he said.
With regards to the proposed Public–Private Partnership for SriLankan Airlines, the government has indicated its willingness to write off the liabilities burdening the tax payer to make it look better in an apparent attempt to dress up the bride.
MP Dissanayake reiterated the significance of the state continuing to own a share in the market economy in every sector to avoid possible cartels by a few rogue traders to manipulate markets.
"Therefore, especially in a small economy like ours, the government must protect its share in the markets to the best interest of the people and also to uplift their living standards, which is a standard of measure in economic development," emphasized Dissanayake.
He said apart from the privatization of Sri Lanka Telecom, all other privatization programmes have failed in the past and therefore, there was a reasonable fear among the people on the privatization as they have not delivered the desired results expected by them.