---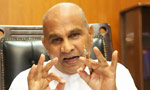 Northern Governor Reginald Cooray today charged that certain Northern politicians were not concerned about the real problems faced by the people in the province and survive on misinformation and lies which fuel unrest in the North and the South.
He told a media conference that discrimination on the grounds of caste, social status and wealth have resulted in heartburn in the North where low caste Tamils were banned from entering prestigious schools and Kovils. The Northern people are also confronted with lack of housing, social problems, unemployment, low income and health issues.
"These are pressing problems that have brought in its wake much misery to the ordinary people who are in the majority. But unfortunately, politicians, the media and a section of the North and South have become victims of sensational, confusing and sometimes juicy news. What is sad is that most of the news is distorted and half baked giving a wrong message to the readers and viewers. This kind of news sustains extremists, fundamentalists and racists in the North and the South who are hell-bent on destabilising the country. Sadly, some political leaders thrive on such malicious canards," the governor said.
He said it was improper to give an ethnic colour to incidents involving the police and the armed forces. Protests marches are held almost every day in many parts of the country. People are killed by underworld gangsters and during clashes with the forces. But when such incidents happen in the North they are reported differently resulting in a negative impact on reconciliation and ethnic harmony.
"The clash in the Jaffna University among two groups of students, the killing of the two undergrads at a police checkpoint and the attack on two police officers have been reported in the South and East in a manner that promotes incitement. The media must behave in a more responsible manner, the governor said. "Did any one protest or hold public rallies when the popular actor Nihal Silva was shot by the police when he refused to stop his vehicle at a police checkpoint in Wellawatta during the war. I won't attempt to exonerate the police but people must understand that the North is a war-affected province where peace and reconciliation has not been fully restored." (SAJ)
Video by Amantha