---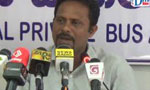 Private Bus Associations said today President Maithiripala Sirisena assured them that there would be no traffic fine increase without consulting relevant parties.
All Ceylon Private Bus Association (ACPBA) Secretary Anjana Priyanjit said President Sirisena assured them that if the traffic fine was increased, it would be done following a discussion with the Bus Associations.
The Inter Provincial Private Bus Association (IPPBA) President Sarath Vijitha Kumara said they also decided to call off the bus strike following the assurance given by the President to consult the bus associations in the event of a traffic fine increase.
President Sirisena had agreed to appoint a special committee with regard to the issues faced by the bus operators. (Chaturanga Pradeep)
Video by Buddhi