---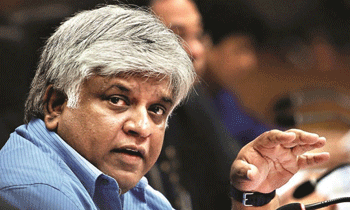 Petroleum Resources Development Minister Arjuna Ranatunga today assured the people that there was ample stocks of fuel to last the next three weeks and said three more ships carrying fuel would arrive in the country within the next two weeks.
He said his Ministry had requested the CID to investigate the rumour mongering by miscreants who were sending text messages via social media websites to cause panic among motorists.
The minister said President Maithripala Sirisena had promised to launch an investigation into this matter.
He told a news conference held at the ministry yesterday that anti-government elements were using the social media to embarrass the government.
"I assure all stakeholders that there is no fuel shortage and that I will not hesitate to inform the people even if there was a remote chance of a fuel shortage. However, fuel stations have had to release extra fuel due to the increased demand during these two days. Usually, we release 2,500 metric tonnes of fuel a day but we have released up to 4,000 metric tonnes of fuel to cover any extra demand," he said.
The minister said they had received reports of some privately-owned fuel stations refusing to release fuel though they had enough stocks.
"We will acquire these fuel stations if this state of affairs continues," he said.
The minister said in the past there had been a 'business mafia' in the fuel sector and that the ministry was now in the process of 'doing things right' for the benefit of the people.
He said at the next Cabinet meeting he would submit a proposal for the construction of fuel storage tanks in various parts of the country. (Lahiru Pothmulla)
Video by Buddhi